---
THE BB STORY
---
1972
Bilbo Baggins were formed in November of this year by Dev, Colin and Brian. Fid joined later after being suggested by Tam. Tosh was the last to join after he left his previous band, he had lived around the corner from Brian for most of his life. The name for the band was actually put forward by Tam. At this stage their aim was to get a record deal and aim for success.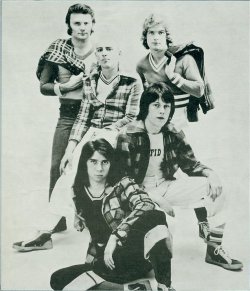 1973
First time the band all played together was in January 1973 at Craighall studio in Edinburgh. They recorded 2 tracks which formed a demo for Tam to take around the major record companies. Following a lot of interest they signed with Polydor in October. The band already had a considerable following in Scotland, particularly in Aberdeen, Glasgow and Edinburgh.
Bilbo went through many changes of style during the seventies - they started out with a tough 'boots and braces' look.
1974
In May their first single 'Saturday Night' was released. They appeared on Lift Off TV show and the single made it to the breakers on the chart. Unfortunately they did not get to appear on Top of the Pops with 'Saturday Night' but did however travel to Holland for their TV show Top Pops. 'Saturday Night' was a powerplay on Radio Luxembourg and was played on other national radio stations. At this time Bilbo were wearing tartan, shorter length trousers and baseball boots, a look which they claim was theirs before the Bay City Rollers made it hugely successful. This can be seen in the picture above.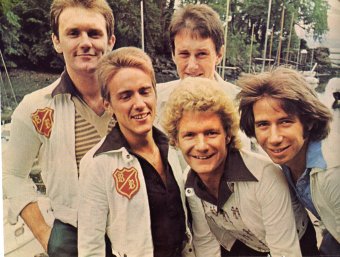 The 'Sha Na Na Song', the band's second single' was also released this year but did not appear to have much promotion or subsequent success. By now the band's look had moved on to white bomber jackets sporting the BB cloth badge.
1975
Bilbo's third single 'Hold Me' was released in April which they promoted heavily on both TV and radio. They appeared on Saturday Scene, 45, Shang-a-Lang and took part in interviews with many radio stations. 'Hold Me' was in Radio Forth's chart for 11 weeks and reached number 19. Again, Radio Luxembourg played this single with Peter Powell choosing it as his Hit Pick. Radio One did not include 'Hold Me' on their playlist so unsurprisingly it was not a national hit.
In May they appeared on the Saturday Scene Roadshow at Wimbledon Theatre in London. Saturday Scene was a very popular weekly morning kids' TV show and the Roadshow was hosted by Sally James and featured a diverse selection of acts each time. Bilbo's performance was particularly memorable because their equipment failed when they came on stage. They overcame this by joking with the audience and eventually played a storming version of 'Hold Me'.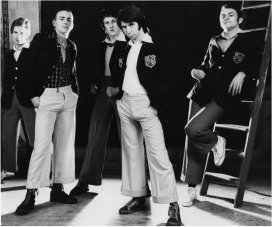 For a short while they adopted a smarter look with blazers displaying the BB badge.
1975 was a very busy year for the band and they played around 150 gigs. This included a support tour with the Rubettes and a trip to Cyprus to play at RAF bases and also an amphitheatre in Paphos. In December they started to promote their new single 'Back Home' with TV appearances on Supersonic, Look Alive and 45. From the end of November and through most of December they also gained some extra fans and some good reviews when they toured with Mud.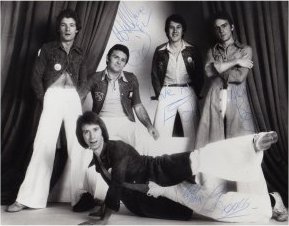 By the end of the year Bilbo had found a look which was successful for them and lasted a while - the denim dresses. They had noticed some local fairly tough guys getting away with wearing the dresses over their trousers and thought it looked good. It worked well for them and was certainly distinctive.
1976
This year got off to a great start with an appearance on Supersonic at the beginning of January and the release of 'Back Home'. Despite further TV appearances and radio airplay, chart success continued to elude them. Not deterred, they recorded their next single 'It's a Shame' which was released at the end of March.
Throughout March and April they promoted the single with a string of gigs and an appearance on Arrows TV show. In May, June and July Bilbo continued to tour playing quite a few Top Rank venues and also Chelmsford Odeon with G Band (previously called the Glitter Band) and generally received a good reception. In June they took part in a television play for the BBC called Glitter. This featured a very early appearance by Toyah who sang a song called 'Dream Maker' with them (link to Toyah.Net). In July they made a recording of their excellent version of 'Let's Spend the Night Together' (they slowed the tempo right down) which unfortunately did not get released.
August was a pivotal month for the band. They flew to Gibraltar to play some gigs and whilst there Dev enjoyed the hospitality too much and was not able to appear on stage. This resulted in the rest of the band taking a very hasty decision and asking him to leave on their return. A time of great upset for the band and fans alike which changed the sound, look and future direction of Bilbo.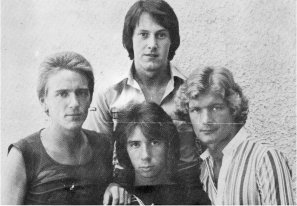 However, they had to adapt quickly to their new four-piece line up as after only a handful of gigs they were due to appear as support band to the Bay City Rollers for a national tour in September. Tosh adjusted to his new role as bass player and Brian became the main guitarist - for the time being they couldn't use keyboards on stage but were aiming to create a new and tighter sound. At this time they had quite a casual look. The Roller tour was an amazing time for them, playing to a new audience of thousands packed into large venues. Bilbo put in a very enthusiastic performance, wearing a new look of drainpipe jeans and clearly enjoying having a large stage to run around on. They received a good reception from the Roller fans but unfortunately couldn't capitalise on this success as they had no records out at the time.
For the rest of the year they played gigs at smaller venues, mainly in Scotland. They also made an appearance at the Fab 208 Disco Party in Nottingham with Mud, Sherbert and Peter Powell.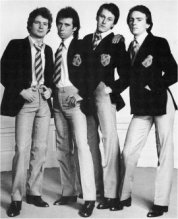 1977
This proved to be a difficult year for Bilbo. They had now parted company with Tam Paton management and their record deal with Polydor had come to an end. The agency who booked their concerts had also changed from Gales in London to MAC in Scotland. All of these changes naturally resulted in a period of frustration and delays as they tried to sort out contractual difficulties and made sure they moved forward in the best possible way. They did play some gigs, largely in Scotland, and also found a new manager, Henry Spurway.
For a brief time they revisited their earlier smart look of blazers displaying the cloth BB badge.
1978
A busy and successful year for the band. They secured a new recording contract with Lightning Records, a smaller label who were able to give Bilbo a lot of attention and support. Their first release was 'I Can Feel Mad' which did receive some airplay and got their name back onto the scene. This was followed up with 'She's Gonna Win' which was their most successful single commercially and reached the top 50 in the chart - they finally got to appear on Top of the Pops. By now they were officially known just as Bilbo (the full name had proved to be too wordy and fans did not tend to use it) and 'She's Gonna Win' was the first release under this name. They now adopted a smart/casual look which suited them all well.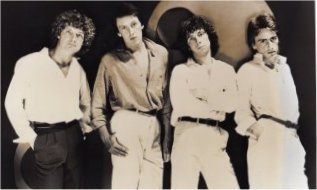 'Don't Blame It On Me' was the follow up single and was well received but didn't achieve the same level of success. During this time the band took every opportunity to promote their records and made numerous appearances at record shops, made TV appearances and gave radio interviews. They also spent a lot of time in the recording studios, hopeful that an album would eventually be released.
During the year they also played gigs across the country.
1979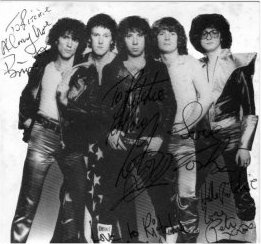 The band decided that they wanted to increase their sound so again became a five piece with the addition of excellent keyboard player Peter Vettesse. They had come across Peter whilst he was playing in Scotland with Tam White. Luckily he fitted in with them all well as he had a good sense of humour. They returned to the studio and released their only single together 'America'. Once again they adopted a new look.
Despite their best efforts, real commercial success continued to evade the band. A couple of the members decided that they no longer wanted to continue so they mutually took the decision to split up.