Bilbo Music Navigation
The Band
The Music
Information
New Live Dates
Other Stuff

---
Gordon (Fid) Liddle
---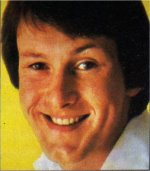 Birthday: 19.04.1951
Drums/Backing Vocals
The only member of the band not to come from Edinburgh, Fid was the 'outsider' from Glasgow where he grew up with two sisters. They were introduced by manager Tam and it soon became clear that they all shared the aim of wanting big success - and also a good sense of humour. He was always known as Fid, rather than Gordon, thanks to a nickname, derived from his surname, from his school days which stuck with him.
Apart from being a solid and proficient drummer, Fid also taught himself to play guitar and keyboards and also tried his hand at songwriting. He was the first of the band to have his own song released with the 'B' side of 'Hold Me' called 'Dance to the Band'. Fid supports the Glasgow football team Celtic and had a keen interest in photography, he could often be found looking around camera shops.
After Bilbo split up in 1979 Fid managed to turn around his future career in the most remarkable way. He must have studied incredibly hard to qualify within the legal profession, currently holding the position of Sheriff in Scotland (equivalent to a Judge in England). Probably not many people are allowed to address him as Fid anymore!
To find out what Fid is doing now go to Bilbo Today.

---
The information collected below is from various promotional information sheets. Sometimes the information conflicts, i.e. year of birth, eye colour, etc.
Name

Gordon Liddle

Birthdate
19th April 1955 (or 1951)
Birthplace
Glasgow
Height
5' 11"
Eyes
Brown
Hair
Brown or Dark Brown
Weight
10st 7lb
Home
Edinburgh
Instrument played
Drums,
harmonies,
guitar,
piano
Musical Education
Taught by session musician George McGowen
Early Musical Influences
The Beatles
Favourite Records
"Band On The Run" - Wings
Diana Ross albums
First appearance
Community centre, Glasgow
Biggest break
Forming Bilbo Baggins
Hobbies
Swimming,
football
Favourite composer
McCartney
Dislikes
Buses,
Untidyness,
Shaving
Cold Places
Likes

Chinese food,
Ladies/Girls
Fast cars,
Photography

Favourite Films
The Sting,
The Graduate
Favourite TV Programmes
Top Of The Pops,
Rainbow
Favourite Personality
John Cleese,
Ronnie Barker,
Paul McCartney
Favourite food
Italian and Indian - plenty of it
Favourite Drink
Plenty of that as well.
Ambition
To be content
The source of the above information is from 3 separate documents. The first can be found as part of a press release from Polydor. The other two are also issued by the record companies

Page Last Updated: 4 March, 2010
© Morley Enterprises 2006 - 2010. This site, BilboMusic, is a personal site and is not affiliate with Bilbo Baggins, Bilbo, Brian Spence, Colin Chisholm, Jimmy Devlin, Gordon Liddle, Gordon McIntosh, Tam Paton, Chisholm & Spence or anyone else for that matter. Any copyright infringement is accidental. The pictures and music on this site are there for information only. They are not there for any commercial purpose. Therefore, if anyone representing the artist(s) or record company(ies) want me to remove these items please mail me and I will remove them immediately! This site, BilboMusic, and Morley Enterprises are not responsible for the content of any other websites that are linked from here. So there.