---
The Fans Stories
---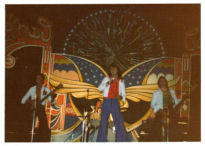 For their fans Bilbo Baggins were a fantastic band to follow. They inspired a very loyal following spread across the country and for the most devoted it became a work of art to track them down at every opportunity. My name is Ritchie and together with my friend Tracy first heard of Bilbo Baggins through the Roller connection. We first saw them at the Saturday Scene Roadshow on 25th May 1975 and it was an instant conversion. Despite technical problems we thought that they stole the show.

From 1976 to 1979 we went to see them whenever possible (school, parents, finances and later work permitting). We quickly met other like-minded fans and built up an effective network of Bilbo spotting. Letters and phone calls flew across the country containing every minute piece of news. We were always on the look-out for new information. We made some good friends and contacts at the record companies and agencies who booked their concerts which was a huge help to us. A 'thank-you' is definitely due to Bernie Sturgeon at Gales agency and Julie at Lightning amongst others.

BB fans were very supportive of the group and wanted big success to happen for them which we felt they truly deserved. However, for us it could be seen as an advantage that they did not have huge commercial success. We could see them on TV, listen to them on the radio and read about them in the pop magazines but when we went to see them they were surprisingly accessible.

They did not need to employ security guards or have a big team around them - in fact on all of the many occasions we saw them, their manager was never present (but sometimes on the end of a phone). Therefore we could often just chat to them as 'normal' people which we loved.
There were times when our enthusiasm to track them down probably took us too far (like to their own doorsteps) and they must have found us annoying but they rarely let it show. Sometimes they were even known to give a fan in need a lift in their car. Jaqui from Enfield had been to see them at a gig in Uckfield and on the way back the lights on her moped had failed.

The group put the moped in their van and gave Jaqui a lift back to London, probably a night which she has never forgotten.
Some of the fans I particularly remember apart from Tracy and Jaqui are Karen, Denia, Anne, Caroline, Pauline, Lyn, Debbie, Bridgetta, Kay and Tina. Most of us became quite friendly - we spent so much time waiting around, Bilbo spotting was often a very slow and lengthy process, that we got to know each other well. We liked to take photos whenever possible and I also kept a diary which has helped me to remember the details of the stories behind the pictures:
Brighton Revolution 23.6.76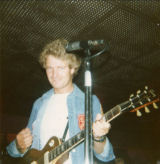 We travelled from Victoria by coach and walked along the sea front until we found the Revolution. We went in down some dark stairs to have a look around before going to find a guest house - not easy as a lot were full. After a quick relax on the beach we went back to the Revolution and Billy and Stewart (their roadies) arrived at about 5.00, followed by Brian. Keiron was also with them, he used to be a roadie and was coming back to work for the band again. Brian disappeared to the place where they were going to stay whilst we all helped to bring in the equipment and get it set up. Brian reappeared and asked us if we were 'skipping off school'. He talked a bit about his school days and being in a band now, 'it's a great life', before going to find a deckchair to sit on in the sun. Colin came in and said hello, Fid went to the dressing room (not in the best of moods) and Tosh came in wearing drainpipe, creamy coloured trousers, wedge shoes and his little men top.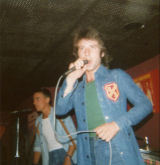 We went to get changed at our guest house and returned later - 50p to get in. During the concert Colin messed about with a flashing light that was there. In the audience there was a big, fat, drunk guy wearing a string vest. During 'Let's Spend the Night Together' he started playing an imaginary guitar - Colin was laughing so much he had to stop singing. Bilbo came off stage and had to walk through the audience to get to the dressing room. The guy on the door also pushed us through to the passage leading to the dressing room, probably because of the BB badges on our coats. We hung around until they came out - they went outside where apparently they had to do some explaining to a passing policeman about a lack of number plate on their car.
Brighton Beach 24.6.76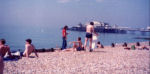 After a truly awful guest house breakfast we headed back to the Revolution to wait for the roadies to come and shift the equipment (which they had left in the club last night). We were soon joined by Bridgetta and Debbie. At around 11.00 am we spotted Brian cross the road then turn and walk towards the seafront. Tracy ran after him and soon we all caught up. He was looking for Fid. Colin appeared from somewhere and then he and Brian walked back across the road and down to the beach. We followed at probably a not very discreet distance. They put a towel down, got changed into shorts/trunks and started to sunbathe. We sat down a little distance away, not quite able to believe our luck. Soon Fid and Stewart came along to join them. Fid was wearing denim shorts, green socks and yellow plimsoles. Dev came up behind us, he was in a loud mood, then he sunbathed with the others. Tosh came along later.

We watched them whilst they went swimming, went for drinks or food and gradually edged a bit nearer (as can been seen by the last photo). Eventually we were close enough to share sun tan oil, have a pebble fight and look through Fan magazine and discuss the various groups featured. We later followed them to the car - they were going to Cardiff for that night's concert and we were going to Worthing where we would see them the next day. This was the first day of a heatwave and had been very hot whilst we were sitting on the beach. Of course we hadn't taken any notice of this - the next day I was bright red and soon came out in blisters and ended up in A and E.
DJM Recording Studios 15.7.76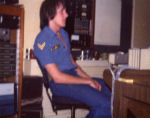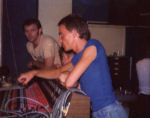 It was easy to find DJM because there was a group of fans already waiting outside. Jaqui soon arrived and we decided to go in and try and speak to Alan Blakley (their producer). Surprisingly he did come out to see us and was really nice, he promised that he would ask one of the band to come and talk to us. Colin appeared and said that they would be recording all day so we went for a wander around Oxford Street, visited Polydor and located where the car was parked.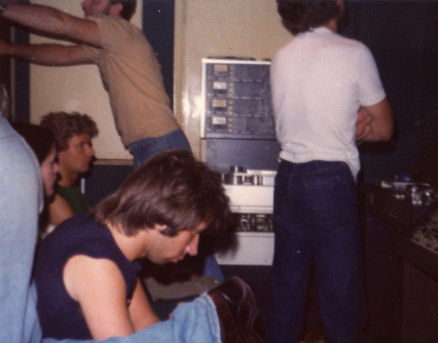 We returned to the steps outside DJM where later Tosh and Colin went out for a drink and left the door open. Dev appeared and started to make faces at us through the glass and we followed him in to the bottom of the stairs where he said that we 'MUST NOT go in' but in a rather teasing way. Naturally we took the challenge and gradually edged our way further into the recording studios. It seemed dark inside and I ended up listening to the tape of 'Let's Spend the Night Together' whilst leaning on a wall outside the drum room. Fid came out and was not too impressed to find me there but luckily Dev appeared and said that it was OK.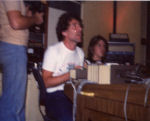 On the understanding that we made them some tea we were allowed to sit in the mixing room and listen to what they had been doing. Brian recorded the glockenspiel part and then they played the track again and again and discussed each part in detail. Several of the fans took photos as did Fid and Dev. Alan Blakley and Mark Wallis, the engineer, were great and didn't seem to mind their studio being invaded by fans. By now it was about 3.00 am and as the work was done for the day everyone seemed to enjoy just sitting around and chatting for a while and then we walked with them to the car.
This recording of 'Let's Spend the Night Together' was never officially released but was available to fan club members who sent in a blank tape. To hear for yourself go to the 'Download' section. The sound quality is not perfect as it's taken from my much played cassette but gives a good idea of Bilbo's unique take on this Rolling Stones' classic song which was a great stage favourite for them.
Gatwick Airport 01.08.76
Caroline and Anne had come to stay with us - Bilbo were due to fly out of Gatwick airport to travel to Gibraltar the next day and we were determined to find them. We had no idea where they might be staying so firstly tried their usual hotel in London but no luck there. We then caught a train to Gatwick and managed to find out the details of the flight they were booked on from a helpful person at an information desk and also a list of all nearby hotels. Caroline patiently worked her way through the list, ringing each one and trying all of their names, and eventually found success on the very last one - the Post House. We were so happy to have found it that we just ran through the airport to try and get their minibus. Just missed one so splashed out on a taxi instead.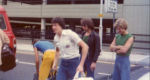 Arrived at the hotel and were not quite sure what to do, we went into the Reception area and by chance Tosh appeared. He was wearing one of his 'holiday' shirts and was surprised to see us but chatted to us all for a while. He told us to go and see the others but didn't want to actually take us over to them - therefore we followed a short distance behind him in single file, must have looked rather odd! We soon came to where Colin, Fid and Brian were sitting (Dev had gone out) - they were also surprised to see us but appeared to be in good moods and started teasing us as usual. We all sat down, Jaqui gave Brian some marshmallows which were passed around and then they went in to dinner.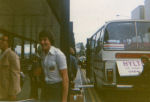 Not long afterwards they returned together with some people from their agency who were also going on the trip. Brian came over to sit with us (which we thought was really nice of him) and we all had a long and interesting conversation about the various reasons why fans follow the group - he appeared to be genuinely interested. Fid also came over for a while before they all disappeared to bed. We went back to the airport (clearly looking rather suspicious as we were stopped several times by the police) and found the most comfortable seats available to get some sleep.
Monday 02.08.76
After a not very comfortable night at the airport we waited for Bilbo to arrive for their flight. We thought they were going to miss check-in - the Tremeloes were also going to Gibraltar and they had already been through. Finally they were there and we accompanied them along the moving floors and then in the check-in queue. They had a laugh at some of Tracy's photos and we had a laugh at their passport pictures. Dev was being nice to everyone, particularly Jaqui who had been disappointed not to see him last night. Brian joked with us that he would miss us whilst they were away. We went up to the spectators' balcony and it was easy to spot them walking to their plane thanks to Brian's bright yellow trousers. The flight took off late and we watched it disappear into the distance until it was a tiny dot.
Thursday 02.08.76 - Return from Gibraltar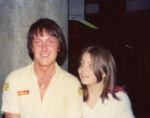 A lovely hot, sunny day - we met Jaqui at Victoria and travelled to Gatwick where we soon spotted Bridgetta and Debbie. Their flight was delayed by an hour and they were about the last people to come through - Brian came through first, full of smiles and looking very brown. It soon became clear that all of the instruments were delayed by customs and they may have to wait for a few hours (good news for us!). Brian, Dev and Tosh went to try and sort this out. Colin, Fid and some of the fans went for coffee whilst the rest of us finally came in useful and looked after all of their luggage trolleys.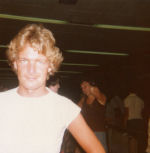 Dev and Brian then went back to the hotel to collect the car whilst Tosh stayed and had a chat with us whilst we precariously wheeled the trolleys to the collection point. They returned with the car and the others soon appeared down the escalators. There was slight chaos whilst they sorted their things into the car and we try and grab the opportunity to take a few photos (most of which didn't come out because it was too dark). They drove off in the car and we try and work out where they are as we know the equipment has not been cleared yet.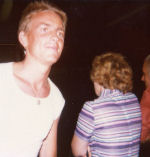 Some of the fans go home but Anne, Caroline and I find out from Gatwick Handling that the only place to try would be the freight sheds. We eventually find this area and soon spot the car with Dev sitting alone, clearly not feeling too well (Tracy had already given him some aspirins for a bad head). He chatted for a while then told us to find the others in the café nearby.
There is a 'Staff Only' sign on the door but we ignore this and soon find them at a table. They were clearly talking seriously about something which we definitely interrupted - one of those moments when we should have stayed away but they were still fine with us and had a chat and shared some sweets. We said goodbye to them at the car not knowing that it would be the last time that we would see the five of them together.
Speakeasy 05.09.76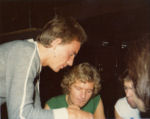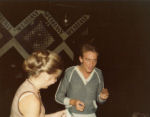 This was one of the first concerts that we saw without Dev and it still seemed really strange. We arrived early at the Speakeasy and were there when Colin, Brian, Tosh and Fid arrived. Tosh was being very affectionate for some reason and gave us the new press handout picture. Colin was in a mad mood and thought that turning our bags upside down was hilarious. There are some problems with the equipment so they took the opportunity to play on some of the slot machines in the venue.
They talked a lot about how the gigs are going as a 4 piece and clearly needed some reassurance. As it was a couple of days before Tracy's birthday she had brought a cake for them which seemed to go down quite well. Colin and Tosh agreed that they would take us out for a cup of tea to celebrate so we followed them out into Oxford Street.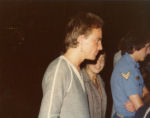 To our surprise they meant it and we went to a café with them and Stewart (roadie) where we just about squashed around a table. After this we followed them on an interesting tour around Oxford Street - shoe shops, an auction that was taking place and finally a pub with a pool table. After they played pool we all returned to the Speakeasy.
It was still early - Brian had a sleep on one of the seats, Tracy had a long talk to Fid and Tosh was also very chatty - they were all talking about the forthcoming Roller tour. They came on stage at about 9.30 and played a good set - dedicating 'Better Move On' for Tracy's birthday. There were quite a few fans in the audience that night and we all hung around afterwards and walked with them back to the car.
Roller Tour - Southampton Gaumont 13.09.76

We didn't know that Bilbo were going to be the support band on the Roller tour until the tickets had been on sale for a while so Southampton was the only venue we could get to. We arrived there in the afternoon, booked our guest house and had a look around the shops. After finding the Gaumont we went around to the back of it where quite a few Roller fans were hanging around and also some Scottish Bilbo fans. We saw the roadies go in and then at about 6.30 Bilbo arrived - we noticed that Tosh had had a very strange haircut. We could just spot them through the dressing room windows and they flashed the lights as fans shouted to them.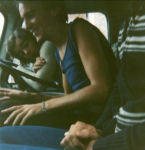 Peter Powell was the compere and after his introduction Bilbo were on stage. This was the first time we saw their latest image - drainpipe trousers and Kicker shoes. Our seats were in the circle and we ran down to the front of the balcony but kept on being told to sit down so ended up dancing in our seats. They did Please Sir, Saturday Night, Hold Me, Funny Little Man, Fooled Around and Fell in Love, Let's Spend the Night Together and Back Home. It was strange to see them on such a big stage but they made the most of it and put in a lively performance. The Roller fans gave them a reasonable reception.
As soon as they came off stage we ran outside to the stage door area. There were quite a few people waiting and they got police protection when they came out. We all tried to follow them to the car, the police stopped us but I dodged around the side and got through - they found this highly amusing. I walked with them to the car and talked about Tosh's hair, the concert and why we hadn't stayed in to watch the Rollers. They went in the car, I found the other fans at the gate and we all ran after them. It wasn't far to their hotel so we soon caught up with them. Jaqui was really pleased to see Tosh and ran up to give him a great big hug - she managed to trap his arms inside hers and it looked really comical. They came out of the hotel and went in the car to look for somewhere to eat - we caught up with them again a couple of streets away and had another chat. This time they drove off and finally made their escape from us.
Sunday 14.09.76
After breakfast we made our way to their hotel - Brian and Colin soon came out. They were looking for the car which it turned out Fid and Tosh had taken the night before as they ended up staying in a different place. We managed to get a good photo of Brian before they went off in the van with the roadies. Tosh and Fid turned up in the car - we unsuccessfully try and hitch a lift to London as they now have spare seats in the car. In the end we caught a train and made our way to the New Victoria. The streets outside were really busy with Roller fans but we did catch sight of Bilbo's car and ran after it but lose them. As we were wandering along, wondering what to do next Tosh appeared before us. He explained that they are having difficulty getting into the venue as the Roller fans are mobbing any vehicles likely to contain a band so are now just going to walk in. We take the opportunity to take some photos then wave him on his way. As we don't have tickets we listen to the concert from outside and then make our way home.

So these are some of the recollections from 1976 of our trips to see Bilbo. As the band did wonder sometimes - why did we do it? The answer has to be that it was a lot of fun - the chase to find them was a challenge and often exciting - and it certainly beat the activities of our teenage friends who just hung around in our home town. For Tracy and I we also had a big interest in learning more about the musical side of things - by this time we had formed our own girl band so were eager to follow in their footsteps. By 1978 we were working and our trips to see them became a little more sophisticated - we befriended their roadies and sometimes got lifts and could afford to stay away more. On one occasion Colin and Fid were doing a radio interview so Brian and Tosh allowed us to do the soundcheck with them (Tracy sang and I played drums) - we felt pretty special that day!